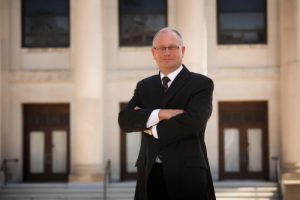 Richard J. Hauser has practiced extensively in the areas of plaintiff's personal injury, workers' compensation on behalf of injured workers, and divorce since commencing his practice in Freeport, Illinois in 1986.
Rick attended the Catholic Schools in Freeport, graduating from Aquin Catholic High School in 1977. He thereafter attended Highland Community College in Freeport, Illinois. After graduating with an Associates Degree transferred to Creighton University in Omaha, Nebraska. He graduated with honors from Creighton University and attended law school at the Creighton University School of Law from 1981 to 1984. He graduated with honors from Creighton University School of Law in 1984. He was admitted to the Iowa State Bar in 1984, the Nebraska State Bar in 1984, and the Illinois State Bar in 1986. After graduation from law school, Rick worked as a Pottawattamie County Assistant Attorney in Council Bluffs, Iowa. Shortly after being licensed to practice law in the State of Illinois he was admitted to the Federal Court for the Northern District of Illinois.
His practice in the State of Illinois has included numerous trials in the areas of workers' compensation, divorce, and personal injury. Rick is active in the American Bar Association, Illinois State Bar Association, the American Association for Justice, and continues to be a member of the Iowa State Bar Association and Nebraska State Bar Association.
Rick has served in all official capacities for the Stephenson County Bar Association, including Secretary, Vice-President, and President. He has been active in his community, serving as a coach in the Freeport Little League and serving as a basketball and football coach for the Freeport Aquin Catholic School Junior High. He has been active in volunteering for the Aquin Catholic Schools as a Booster and through the Aquin Open Golf Committee. Rick is also serving on the St. Thomas Aquinas Church Finance Committee and serves on the board of directors for the Freeport Community Foundation.
Rick has received a high recommendation from Martindale Hubbell, which is a rating received from his peers.
Rick and his wife, Lynn, have raised five children in Freeport.